I had the privilege of going to California with 4 of my 6 sisters a couple of weeks ago. It was so much fun to be able to spend some much needed time together. Since we live so far apart this was our first time to ever do anything like this before, just us girls no husbands or kids. I have friends that get to see their sisters for weeks at a time and it always makes me a bit jealous (to put it mildly). When I do get to see one of my sisters it's for like a day. maybe. once a year. maybe. That's one of the hard parts of being from a big family; trying to divide up time to visit family members. I'm definitely not the best at picking up the phone to call either. At this stage in life…..come on, when is it ever quiet to a have an actual conversation with my twinados always running around. Literally. Life is cccrrraaaaazzzzyyyy baby!!!!


Okay, so now you get the idea of how excited I was for this trip. In case you already forgot, let me remind you: sisters, no hubby, no munchkins. Got it? Now for the fun details of my fantastic trip to L.A.……


I flew from the ABQ airport bright and early Tuesday morning at 7:15am. This meant I needed to be at the airport by at least 5:30am so I could get my car in long term parking, hike-it into the airport and go through security, and in time. So in order to do this I drove myself down Monday night to stay with Josh's Grandma, Lola (I just love Grandma Lola).


Everything went great. My connecting flight was in SLC and this is where I finally got to connect with my girls, Cherise, April, Krista & Shantel.
Our flight to the LAX airport was soooo much fun!! Just imagine FIVE sisters finally together for this trip they've been waiting for… for like, forever mixed with all the excitement. If you're picturing 5 giggling teenagers, your probably right.


Even the flight attendants couldn't help but get caught up in our excitement and wonder where we were going. When they found out we were going to The Price Is Right they made us promise that if we got up on to the stage that we would put a shout out for Scott & Deana from Delta airlines. They were the best attendants ever; So funny. They even gave us one of every kind of snack!! It was funny too because when we landed at LAX we hear, over the intercom, a fight attended saying "Ladies and Gentlemen as we make our descent into L.A. in behalf of Delta airlines we'd like to thank you for flying with us today. I also want to say good luck to 5 of our couch passengers who will be attending The Price Is Right." The whole flight gave us an applause. Yeah, it was cool : )

W.A.T.C.H...O.U.T...HOLLYWOOD….because, here WE come!!!




"The Price Is Right"




We were able to book our Hotel right across from the CBS studio. It wasn't the Hilton or anything but it served its purpose and, hey, we were only a few blocks from where they showed The Price Is Right! Now, the CBS studio is HUGE! It runs for a few blocks!! Think of all the shows CBS hosts: Dr. Phil, Dancing with the Stars, CSI, Without a Trace, The Amazing Race, Sixty Minutes… just to name a few.


After checking into our hotel we deicided to walk down to the studio to get an idea of where we needed to go in the morning to lineup and wait to try and get in. When we got down there the guy in the ticket booth told us that the 4:00 show still had room! We were like "REALLY! OH. MY. GOSH! Should we just go today??" So we decided to just do it. That was our main goal in coming and that would give us another shot at trying to get onto the show since we still had the next day to try. So we went through the process and got our name tags and pictures taken. We were soooo excited when founding out that since our numbers were between 157 – 161 that we were for sure IN!! The studio can hold a little over 300.


The waiting process did seem to take F.O.R.E.V.E.R. and then a bit more. We got there at 2:00 pm and they said the taping would start at 4:00 pm, but it didn't end up starting until 5:30 pm. We were waiting outside in the heat, sooo dang excited we could hardly wait and extremely nervous for the interview. They hold a brief interview with each member of the audience to help them pick their contestants. So we made it through the interview just fine. They actually take small groups of 5 people up at once and ask everyone a couple of individual questions like: Where are you from? What do you do? And a couple of other things, but I don't remember. I was so glad when that part was over! Then they led us to 2 other waiting and holding areas (outside) before we were FINALLY able to go inside the studio for the taping.


When I first walked in I was shocked at how small the studio actually was and how retro sixties it was. They even had sixties dance music playing real loud to get you in the mood and all hyped up. It worked. We danced and had a lot of fun waiting until Drew was introduced and came out. We had the best seats, we were right smack dab in the middle!! You don't realize when you're watching at home how hard it is for the audience to see the showcases. 1. They are sooo small. 2. There was like 10 camera men in your way!! I was so shocked at how dinky the props really were!


But my biggest shocker was Drew Cary himself. I was absolutely blown away by his personality! He was so "real". He talked to the audience during breaks and cracked jokes and even got down and danced with a couple of a ladies !! If I felt kinda bad before that we didn't make it when Bob was the host, I don't any more. I talked to a couple of ladies inline who said they had been a couple of time with both Bob & Drew and Drew is by far a much better host than Bob ever was. I guess Bob was too good to talk to us 'little people' and would go back stage on the breaks and never talk to the audience!! Drew really did seem just like your friend from next door. He was cool.


None of us were called on down, but we definitely got some air time though. A lady right in front of us got called down and a guy in back of us too!! So be sure to watch on NOV. 25th because that's when it should air. Remember we're in the MIDDLE section!!


It was sooo much fun! An experience of a life time. Something I will never forget!! Even though we were in our travel clothes and didn't even get to wear our adorable shirts we had made to wear, we didn't want to risk running back to the Hotel and not being able to get back in. See picture below.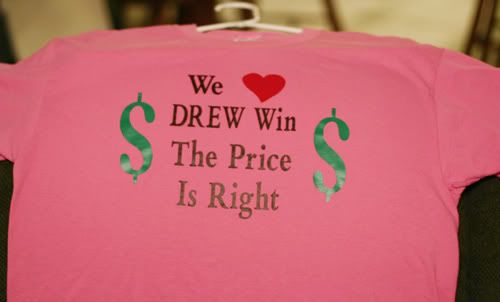 Picture of us after the show. We actually don't look half bad for being dog tired. Remember I'd been up since 4:00 am that morning and flew on two flights and went on The Price Is Right. Oh, and was in a new time zone. But it was an fantastic day!!!



After Price Is Right we went behind the CBS studios and found the BEST shopping! They had a little of everything down cute little streets that were all paved with brick. There was strings of lights and cute architectural work on the buildings with beautiful balconies. We were trying to find a place to eat since we were all famished and went around the corner and Shantel started to scream like a little girl. There, across the street, was an American Girl store that "we just had to go into". I have never really been into the dolls that much myself. I did read a few of the books when I was younger and liked them okay. But Shantel, on the other hand, LOVED them! She even had a couple of the dolls. I have to tell you how impressed I was with this store --scratch that-- MUSEUM is more like it. I have never seen anything like it before. The displays for each doll; all the floors; all the showcases with the dolls; not to mention that there was a beauty salon where you can bring your doll in to get her hair done and ears pierced; a portrait studio; a hospital for injured dolls; a tea room/café for lunch and birthday parties. I'm sure I've missed stuff. HOLY CRAP!! That place was amazing!! I guess the Chicago store is even bigger! I seriously can't even imagine! If you have a daughter who loves American Girl, then bring her there and make her dreams come true (oh, and bring lots of pocket change too, that stuff is expensive). Poor Shanny walked out with only a doll brush. : (



We decided not to go back & try again on The Price Is Right since we were able to get in the day before. It was a long process that wore us out (and we didn't even end up waiting as long as we planned on waiting). So that really freed up our Wednesday to do whatever we wanted to do. We decided to go down to Hollywood Blvd to see the Hollywood Walk-of-Fame and the Chinese Theatre (hand & foot prints). That was so cool! We also went down to China Town too (not as cool as the one in London, but it was fun). I didn't get any pictures of us there though - *sigh* - But I did get some cute outfits for Jenaya & Lanessa. I'll post pictures of them later.

(This picture was taken in our hotel after we were all ready to hit the town)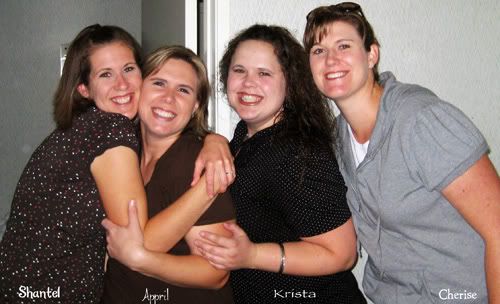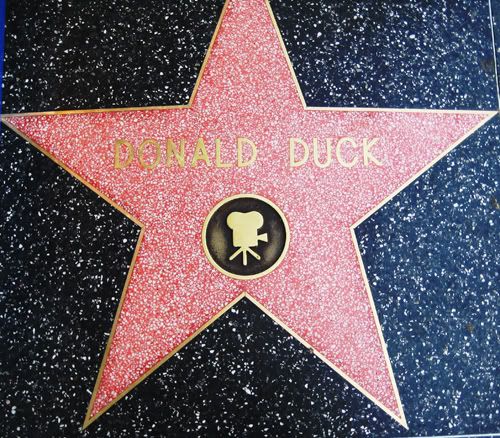 All kinds of people dressed up in different costumes to get your picture taken with them. They, of course, expect tips after the picture. I guess they get paid pretty well!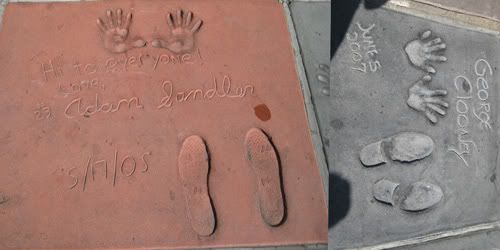 We also went on a 2-hour tour. We got to see the Hollywood sign, Hollywood Bowl, several stars' homes like: Dr. Phil, Tom & Katie, Bob Barker, Brad & Angelina Jolie, Hannah Montana, Orlando Bloom, Janet Jackson, plus lots, lots more. It started in LA and we went up into Beverly Hills. It was cool to see how much nicer the area got the instant we passed into Beverly Hills. Then we went on up into Bel Air. Did you know that Beverly Hills is only six square miles and that Bel Air is only three? I didn't. One of my favorite parts was to see where some of the scenes from "Pretty Woman" were filmed. (I love Julia Roberts) We saw the store she walked into and said "Big, big mistake". And the apartment fire escape scene. Hey, come on it's one of the few "R" rated shows I've actually seen. It was stinkin' fun to take the tour! We felt like "real" tourists. : )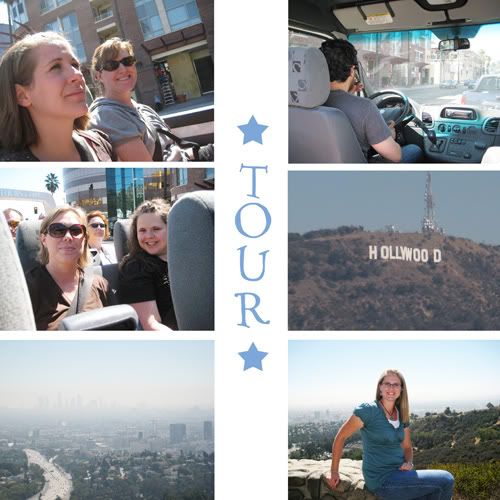 Dr. Phil's house. It's really the only picture of the star homes that turned out good for me. Darn it!!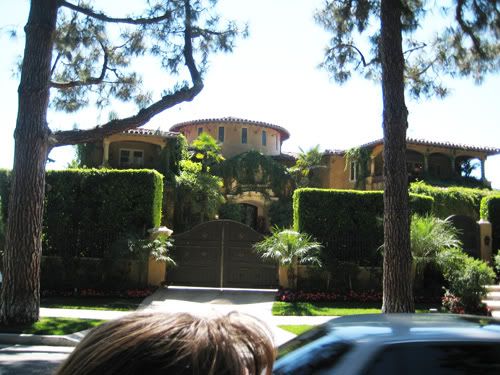 April and I. If you look close, you can see the 'Hollywood' sign behind my head. ; )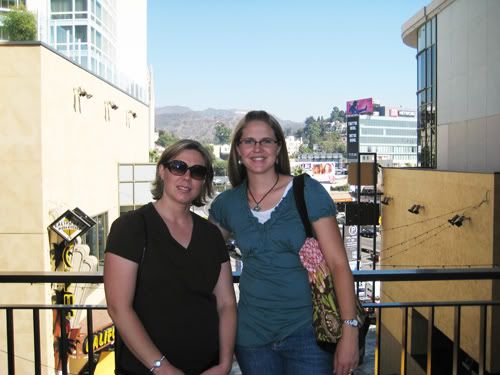 This was taken at the Market Place. It's the coolest place ever to eat and shop; So much culture in ONE place!! And one of the best parts was that it was right behind the CBS studios. That also meant it was not too far from where we were staying. ; ) It was seriously sooo cool!!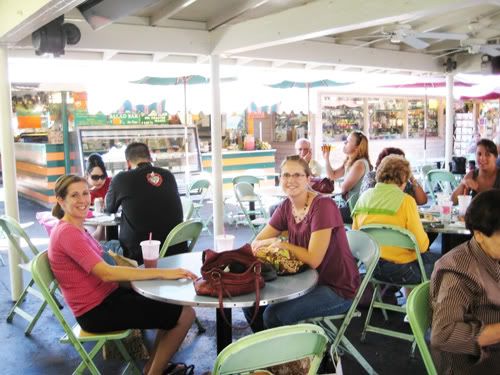 We found out that Shantel was expecting while we were there. She and Jerome hadn't planned on telling anyone yet since she was only like 5 weeks along. But when you're not feeling 100% and you're with 4 of your sisters, it's kinda hard to hide it. She did a good job though. She just couldn't lie when we straight-out asked. ; ) I hope you start to feel better soon Shanny. I know it's miserable. We're all so excited for you guys!! I'm pullin' for a girl ; )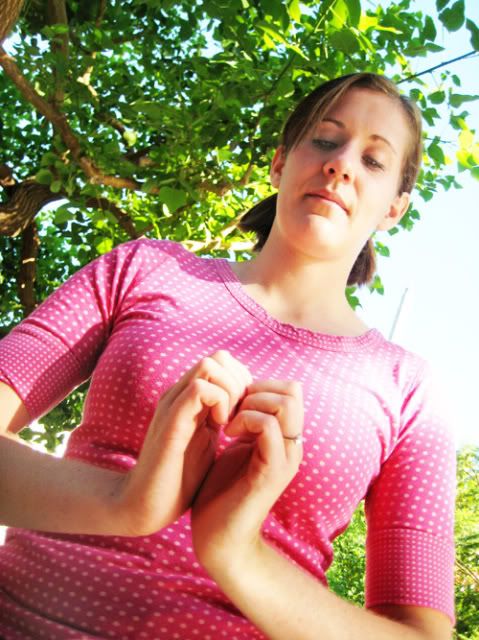 This was on our way home waiting to ride the metro rail (subway) all the way to the airport. Yeah, we figured out how to get around. You can ride that sucker for $1.25, get a stop close to the airport and take a free shuttle bus straight to the airport! We wished we would have known about it on the way in!! We had a great trip even though it was short (Tues-Thur). We sure packed in a lot of fun in those 2 days!!




I'm so glad I was able to go. It was a trip of a lifetime...well I hope not, because I would love to take Josh there sometime! The only thing I regret would have to be more time so we could have made it to the ocean. Oh well, next time *sigh*.